UPDATE: EVA LONGORIA ADVANCES TO THE 2ND ROUND!
Eva Jacqueline Longoria Parker (born March 15, 1975)...(that would make her 33 dummy) is a Golden Globe Award-nominated film and television actress. She plays Gabrielle Solis in the overrated and largely unpopular television series Desperate Housewives, and stars in the film Over Her Dead Body (yeah, I've never heard of it either). She has also become a nationally recognized model after appearing in several high-profile advertising campaigns and numerous men's masturbatory magazines. Longoria is also known for her high profile relationship with NBA guard Tony Parker (A.K.A the luckiest Frenchy ever), whom she married in 2007...the lucky fuck.
VS.
Jessica Rabbit is Roger Rabbit's human cartoon wife in the book and movie. In the book, she was an amoral, up-and-coming star and former comic character, over whom her estranged husband, comic strip star Roger Rabbit, obsessed. She is re-imagined in the film as a sultry, but moral, cartoon singer at a Los Angeles supper club called The Ink and Paint Club (To be honest I always thought she worked at a strip club, but what do I know?) Jessica is one of the most famous sex symbols on animated screen.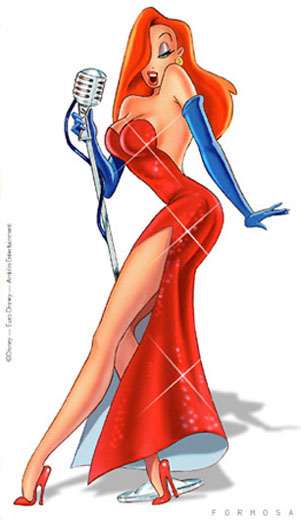 Jessica's most famous quote - "I'm not bad, I'm just drawn that way."