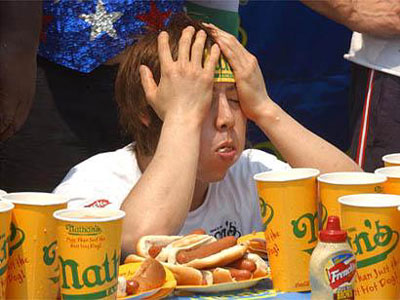 Link
The half-hour format, unashamedly entitled Hurl!, will begin with an intense eating contest during which competitors will consume massive portions of All-American favourites, including chicken pot pies, New England chowder, fish sticks, hot dogs and blueberry pies.

Those able to consume, and keep down, the most will move onto the next stage in which they will be subjected to the likes of carnival rides, belly flops and a mechanical bull.

The survivors will be sent back to the food table, where they will be greeted by a surprise new menu item and try to prevent themselves from throwing up in what G4 insists will be a "comedic and gag-inspiring display."

If more than one contestant is able to keep their food down, the show will go to a tie-breaker involving another physical challenge.

Each episode will feature two new cuisines and a new nausea-inducing activity.
Eat as much as you can until you throw up. Where do I sign up to be on this?! Kobayashi apparently influenced more people than I realized. Seriously, they're really running out of show ideas. Something tells me this show would not get the best ratings during dinner time. It's also guaranteed Steve-O makes an appearance on here, if he isn't in jail or a mental institution.
Rock The Cradle
was even a better show idea than this.