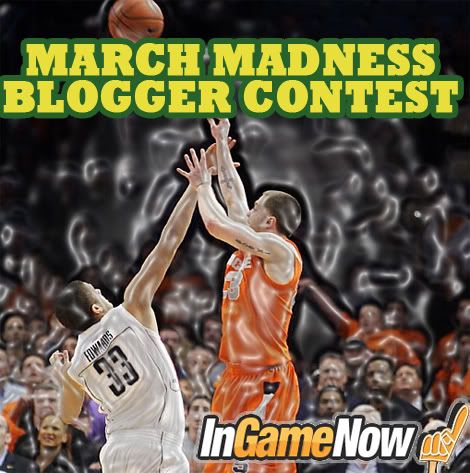 InGameNow
is doing this great
March Madness Blogger Contest
that I'm a part of, representing Sharapova's Thigh. Around 25 other sports blogs are participating in it as well.
How it works is you pick
five players
in the NCAA Tournament that you think will
total the most combined points, rebounds, and assists
. It's
over the whole tournament
, so you want not just the most talented players, but players that will be on teams you think have a chance of going very far.
Here's my team(with points, rebounds, and assists averages over the regular season):

Tyler Hansbrough, North Carolina:
21.4 Points, 8.2 Rebounds, .9 Assists.
Blake Griffin, Oklahoma:
21.9 Points, 14.3 Rebounds, 2.3 Assists.
DeJuan Blair, Pittsburgh:
15.6 Points, 12.2 Rebounds, 1.1 Assists.
Jonny Flynn, Syracuse:
17.5 Points, 2.8 Rebounds, 6.7 Assists.
Terrence Williams, Louisville:
12.3 Points, 8.5 Rebounds, 5.1 Assists.
I have North Carolina winning it all, so Hansbrough was the most obvious pick to make. If Ty Lawson were healthy, I'd probably have selected him too.
Griffin's a beast, and while I have his Sooners losing to Syracuse in the sweet 16, I also wouldn't be surprised if they went all the way. Even if he's just for around for a few games, he'll put up monster numbers.
I have Pittsburgh in the final four and I debated between Blair and Sam Young, ultimately going with Blair of course. Young puts up 18.7 points per game, but just 6.7 rebounds compared to Blair's 12.2.
I love Jonny Flynn, he's probably my favorite player in college basketball. After seeing what he did in the Big East Tournament, I think he's going to shine in the big dance. I have him leading Syracuse to the elite eight, and I really needed assists with my previous three selections being only points and rebounds guys. Jonny averages about 7 dimes a game and I think he could average around 20 points per game in this tournament.
I think Louisville might have the easiest road to the final four, so I wanted to make sure to get one of their players, particularly one that will get some assists. Terrence Williams led them in assists with 5.1 per game, and almost averaged a double-double in points and rebounds on top of that. Just seemed like the ideal guy for this contest with his ability to fill up all three categories. He's the Ian Kinsler of the March Madness Blogger Contest!
So there's my team.
Mouthpiece Sports
has the exact same one as me... great minds think alike. I guess a coin flip would decide the winner in that case.
I'll probably update how this is going in the near future, and make sure to go over to
InGameNow
and give them a thigh five for this cool tournament.
Get The Latest Thigh Updates By Following Us On
Twitter
.