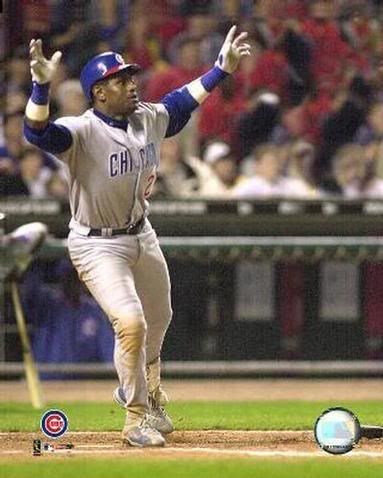 I was going to go with "Say it Ain't So-Sa", but I'm sure people have beaten me to the punch with that one.
It's not a shock that Sosa would get nailed for performance enhancing drugs. Not a shock in the slightest. In fact, many people had convicted Sosa as a juicer long before the report of his positive test came out yesterday. While that may be unfair, it obviously wasn't incorrect.
I'm a Cubs fan. I've been one for as long as I can remember. Growing up in South Carolina, we only got two "baseball stations": WGN and TBS. I was given a choice of being a Braves fan, a Cubs fan, or a White Sox fan. I chose the Cubs largely based on Ryne Sandberg's affiliation. He is, and always will be, my favorite player of all time.
Sosa, on the other hand, was the type of player that I didn't really ever model myself...probably because his approach and results were always a lot different than mine. Sosa was never my type of player. His approach was all or nothing, he seemed to be a me-first type of player, he struck out a lot, he left the team before the end of a season, he referred to himself as a "gladiator", and he ultimately got caught cheating not once, but twice (cork and PED).
Sammy Sosa was never my favorite player. Probably not in my top 5 players (covering all teams). But damn, he made a lot of bad teams worth watching.
I think that's how I am going to remember Sammy Sosa. Not the many, many warts on his career and personality, but as a guy who single-handedly made a franchise worth watching. A man whose 1998 homerun chase reminded us all why we like sports, not just baseball.
I've seen one Cubs game live in my lifetime, it was in Atlanta in
2003
. The Cubs won 15-6. I remember a lot about that game. Dave Veres getting out of a bases loaded jam with none on when the game was still in question is the one that I tell most people about. The real thing that I take from that game, though, was getting to see Sammy Sosa hit a homerun in person. It was a shot to right centerfield off of Shane Reynolds. I remember the hop. I remember the sound it made. I was like a child getting to see something amazing. At the time, I remember thinking that it was the equivalent of getting to see DiMaggio or Mantle hit a bomb. Something that I could tell my future children about seeing live.
I wasn't naive then. I wasn't naive three days ago. I had more than a slight suspicion that Sosa was using PEDs. It wasn't a shock to see that report come up on ESPN yesterday. And in spite of all this, I find myself a little sad today.
Now we wait to see the rest of the names on this 104 person report, and baseball fans everywhere, no matter what they say or how they act, brace themselves to see which one of the larger-than-life figures that they've seen and hold fond memories of embarrasses himself and the sport by having his name come out as a cheater.
Get The Latest Thigh Updates By Following Us On
Twitter
.